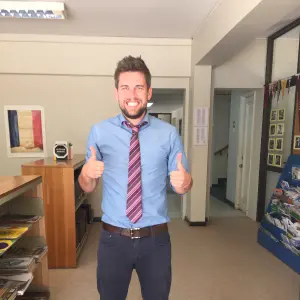 Online Humanities Tutor Josh
Josh 5.0

1227 classes
University of Edinburgh - Humanities, Education - PGDE
International teacher of English, Business, Philosophy & Humanities, with a decade of experience teaching GCSE, A-Level and IB in international schools around the world. I am fully student-focused, with a history of success developing engaging and relevant classes to help students overcome their academic and study challenges. I believe in the values of patience and kindness in supportive academic relationships in order to develop student confidence and determination.
Recent Students:

29

Total Hours:

1201

Last Online:

06 Jun 2023

All-time Students:

117

Total Classes:

1227

Signed Up:

21 Jan 2021
About Me
During my teaching career I have worked at schools in Scotland, Slovakia, Egypt, Chile, Vietnam and South Korea, teaching and leading a diverse range of subjects such as English Lang & Lit, Philosophy/ToK, Business, and others. I have extensive experience teaching various curriculums - (i)GCSE, AS & A-Level, IB MYP/DP programs, and the Advanced Placement - and I know well the pitfalls and expectations of these courses and their assessments.

I currently hold full registration with the General Teaching Council of Scotland, and am qualified with a BA, PGDE and CELTA. Now I work online with students who wish to overcome their academic challenges and achieve their highest goals.
Tutor Experience
2020-present - Private online teacher of English, Business, Philosophy, Humanities (IGCSE, AS/A-Level, IB, AP, etc)
2019-2020 - Head of Business & Teacher of English, International School in Slovakia
2016-2019 - Head of Philosophy & Teacher of English, International School in Chile
2015-2016 - Head of Humanities & Teacher of English, International School in Egypt
2013-2015 - Teacher of English & IELTS, Various schools in South Korea and Vietnam
2012-2013 - Teacher of Philosophy, Perth Grammar School, Scotland
Topic Expertise
(i)GCSE, A-Level, IB MYP, IB DP, AP

English Language & Literature
Business Studies & Management
Philosophy & Theory of Knowledge
Education
Politics/Government
Sociology
Psychology
History
Geography

Client Reviews
a really good teacher, very kind
REBECCA

-
Business Studies
a really good teacher, very kind
REBECCA

-
Business Studies
Josh is a great teacher - he explains the material very thoroughly and makes it very enjoyable to work.
Mohammed

-
Religious Studies
Dear Mr. Joshua, I would like to express my gratitude to a wonderful person and a professional teacher in his sphere. This short text is personally for you. I was looking for a great teacher for extra lessons after school due to the fact that I was not able to get few things in business studies by myself - and I have found you. Personally, I am very grateful because the way you are teaching is awesome. The staff that was difficult at the beginning, was not difficult at the end for me. You are always open and ready to provide any help needed any time possible. Your attitude and attention towards pupils/students is extremely beneficial. Everything was fully covered with amazing explanations for solving tasks together. Even when I was out of mood, you can easily cheer me up. His jokes are just perfect. This teacher is always hardworking, skilled in communication, careful listening, collaborating, adapting to any work, empathetic and patient. All characteristics such as: value in real-world learning; exchange of best practices; and a lifelong love of learning - are all about him. Being a tutor is hard however you put in a lot of effort in this field. Hope that you will grow more and achieve desired results that you deserve!!! Thank you :)
Maria

-
Business
A very helpful and interesting lesson!!
Alexandra

-
Language A: Literature
Full of beans teacher, can explain anything relating to the topic and not only. Always ready to help and answer any questions that may come up any time :)
Maria

-
Business
Best classs, i fell more involve in business tha ever
Perla

-
Business Studies
Outstanding tutor. Highly recommend.
REBECCA

-
Business Studies
it was very beneficial , super friendly and made me feel very comfortable even though i am very anxious about the specific topic i was learning
REBECCA

-
Business Studies
It was excellent, many thanks
Perla

-
Business Studies
Testimonials
Hello sir - I got a 9 in English Lit and Lang!! - Faris, IGCSE English Lang & Lit
My teacher predicted me a 7 for the final predicted grades for the year!! - Vanessa, IB English Literature
Hi Josh, I have completed all my exams and I just wanted to say thank you for your support over the last few months. I really appreciated it! - Selina, A-Level Business
You gave me more emotional support than any of my teachers - this has really helped me stay calm these last few months before exams. Thank you! - A, IGCSE History
Hi! Hope you are well. I just wanted to say thank you so much for helping me with my business content as well as exam practice, the lessons were really beneficial for me. - Swaleha, A-Level Business
Hey Josh! I got a 9/10 for the TOK Essay!!! Thank you so much for your help - Daniel, IB Theory of Knowledge
Josh was a great teacher, and explained things very well. He was knowledgeable and provided plenty of space for my questions and input. My exam technique is much improved and I'll let you know how I do in my exams! - Cora, GCSE Religious Education & Psychology
I improved from a D to an A in Global Perspectives! Thanks Josh! - Martinha, A2 Global Perspectives, English Lit, Business, Psychology
Hi sir! Just wanted to update you on the Romeo and Juliet assignment. I just got back my mark last night and I got 26/30 :D I feel much more confident after I was done I was really happy! THANK YOU!!!! - Noor, iGCSE English Literature, Business
History 7 predicted! and TOK A predicted!!!!!! thank youuuuuuuu - Maria, IB History & ToK
Hi Josh, Rachel here. Tom (son) is back to school so wanted to quickly jump on and say a HUGE heartfelt thank you. You have been a lifesaver and total superstar. You gave Tom exactly what he needed -confidence, encouragement and fully focussed and targeted help. We are enormously grateful to you Josh. - Tom, IB History
Hi Mr. Josh, I hope life has been treating you well! I got the business test results back today and it was a 6 yay! - Trisha, IB Business and Management
JOSH OMG OMG OMG OMG I GOT AN A IM SO SO SO SO SO HAPPY - Ekaterina, IGCSE English Language & Literature