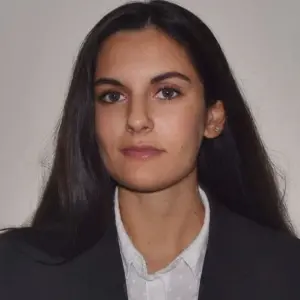 Online Latin Tutor Arianna
Arianna 4.6

380 classes
University of Cambridge - Latin with Classics - PGCE
Qualified and experienced teacher of Classics and Latin with a BA and MA from the University of Manchester and a PGCE from the University of Cambridge.
Recent Students:

50

Total Hours:

413

Last Online:

06 Jun 2023

All-time Students:

109

Total Classes:

380

Signed Up:

20 Sep 2021
About Me
Born and raised in Italy, I completed my higher education in the UK. I love Greek and Roman Mythology, Latin Literature and both Ancient and Modern Languages. A native speaker of Italian and fluent in English and Portuguese, I am currently expanding my knowledge of Spanish. I am a voracious reader and enjoy creative writing in my free time.
Tutor Experience
I am a qualified teacher of Latin and Classics, with a PGCE from the University of Cambridge and a BA (Hons) and MA from the University of Manchester.
I teach Latin, Classical Civilisation, Ancient History, Theory of Knowledge, Italian and Humanities throughout KS3 and 4, and sixth form. I have been teaching in grammar schools as well as tutoring students in Latin, Italian and Classical Civilisation, both in person and online for more than 5 years. Moreover, I have experience as a GCSE and A-Level Italian examiner.
I offer tutoring in those subjects as well as detailed notes, mind maps and revision resources tailored on the student's needs - just ask for more details.

My teaching approach for Latin is reading based, building on grammar and vocabulary whilst enjoying the cultural and historical side. With regards to Italian, my approach builds up conversation and listening skills, using podcasts and grammar textbooks.
Topic Expertise
Experienced with the WJEC, OCR and IB exam boards, for Latin, Ancient Greek, Classical Civilisation and Ancient History; Edexcel and AQA for Italian.

Areas of experise in Latin: Poetry of Catullus, Ovid, Virgil, Horace, Propertius and Tibullus; Historiography by Livy, Suetonius, Cassius Dio, Tacitus. My MA dissertation was on Ovid's Heroides.

Areas of experise in A Level Classical Civilisation (OCR modules): World of the Hero, Love and Relationships, Politics of the Late Republic, Greek Theatre, Greek Religion, Greek Art, Democracy and the Athenians and Imperial Image.

GCSE Classical Civilisation : Myth and Religion, Homeric World, Women in the Ancient World
Client Reviews
Excellent tutor, really nows her stuff.
Muna

-
Classical Civilisation
Excellent lesson with Arianna. My daughter is looking forward to her next tutoring with her. Definitely, nows her stuff.
Muna

-
Classical Civilisation
I was provided with really thorough feedback of my TOK essay! I now know exactly how to tailor it in order to improve my mark.
Laura

-
Theory of Knowledge
My son was enthusiastic about his TOK due to the care and interest shown by Arianna in him achieving and providing his best work. Arianna inspires students to put their best work and try their hardest backed by feedback from Arianna
May

-
Theory of Knowledge
Always wonderful to work with a conscientious, honest and caring tutor that provides the best feedback
May

-
Theory of Knowledge
The comments were extremely useful, and as I followed I could really see how much my essay improved. I am very pleased with the result
Ludovica

-
Theory of Knowledge
Very informative as always ! :)
Anoushka

-
Classical Civilisation
Great class! Very productive.
Henry

-
Theory of Knowledge
My daughter absolutely loved this first lesson with Arianna. She said it didn't even feel like a lesson because it was so enjoyable but yet also very efficient to cover the topic.
Judith

-
Classical Studies
Amazing explanation skills and Arianna is very kind. Can only recommend her!!
Angela

-
Theory of Knowledge
Testimonials
"Excellent help for TOK. I got very practical tips on how to improve. Great tutor and very friendly" (IB TOK Student)
"Arianna is a a dedicated teacher - she not only knows the syllabus back to front and upside down, but she also knows exactly how to attain top grades. She is fast, efficient, kind, encouraging and hugely supportive." (Parent of A Level Classical Civilisation student)
"Arianna is an excellent tutor. She accommodated our request with a very short notice. Her lessons are well structured and organised and even though last minute lesson arrangements I`m sure they are going to help our son in preparation for his GCSE Latin. Thank you so much Arianna for making Latin enjoyable for our son." (Parent of GCSE Latin student)
"Arianna has been helping my son towards his Latin A Level and has been a great help. The lessons are enjoyable and informative and has assisted with improving his predicted grade for UCAS applications. Highly recommended." (Parent of A Level Latin student)