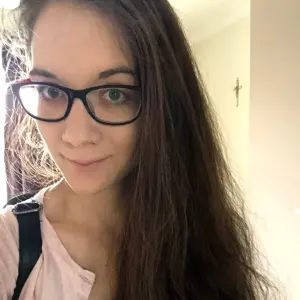 Online Latin Tutor Roxana
Roxana 5.0

331 classes
University College London - Classics 1st - BA, MA
Experienced tutor in Latin, Ancient Greek and Classical Civilisation

Recent Students:

13

Total Hours:

355

Last Online:

09 Jun 2023

All-time Students:

19

Total Classes:

331

Signed Up:

08 Apr 2021
About Me
I have completed my Masters degree in Classics with Distinction at UCL (University College London), from where I also received my Bachelors degree with First Class Honours in 2015. I am currently a final-year PhD student in Classics and Ancient History at the University of Manchester.

During my PhD and Masters I have been working with Greek papyri extensively. I have completed numerous linguistic modules (Greek Texts, Latin Texts, History of the Latin Language, Greek Papyrology, Greek Translation, Latin Translation, Latin Palaeography, History of Greek and Dialects of the Greek Literature). This knowledge enables me to teach Ancient Greek and Latin languages at all levels. As both my PhD and Masters focused on papyrology, I have great experience in some specific disciplines of classical studies, such as papyrology and palaeography. Besides the study of ancient languages I also enjoy studying and teaching Ancient History, Greek Tragedy, Greek Myth and Roman Comedy.

Each tutorial focuses on the needs and aims of the individuals with structured lesson plans. Grammar and vocabulary are essential parts of learning Latin and Ancient Greek - I pay very great attention to these skills and aim to improve them in an interactive, productive and interesting way. I use various materials to make the lessons interesting, visual and very educational at the same time. I always discuss the goals and expectations of each student, and provide feedback about their progress after each lesson.
Tutor Experience
Over the past couple of years I have tutored students regularly in Latin, Ancient Greek and Classical Civilisation. I am familiar with the OCR syllabuses for Latin, Greek and Classics both at GCSE and A-level. I am also familiar with scholarship and entrance exams - most recently one of my tutees got into Winchester College on a full scholarship. I have extensive experience in tutoring Latin, Greek and Classical Civilisation from beginner's up to university undergraduate level. I have been tutoring adult learners, both beginners who were learning the languages as a hobby, and professionals working towards degrees or online courses. some .

Topic Expertise
Latin, Ancient Greek, Classical Civilisation and Classics from beginners to university level
Client Reviews
Thank you. I enjoyed the lesson!
J

-
Ancient Greek
She helped a lot and was very patient! I would recommend her to beginners or for people doing exams.
J

-
Ancient Greek
Very happy and satisfied. Thanks for your patience. Nothing else to add :)
Goker

-
Classical Greek
Brilliant class. Excellent tutor. Just a very nice person overall.
Goker

-
Classical Greek
She was amazing! Super helpful, concise and got straight to what I needed help with. Helped me perfectly and guided me towards what I needed to do. She was professional and came to the session well-prepared, friendly and ready! Thank you Roxana
Luxsia

-
Classics
Great class for both Latin and Greek
Nico

-
Classical Civilisation
Making progress slowly but surely. Roxana is a great tutor and very patient.
Emily

-
Ancient Greek
Learning lots, hard class but still making some progress.
Emily

-
Ancient Greek