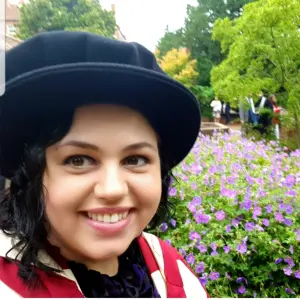 Online Tutor
Dr Candace 4.9

585 classes
University of Reading - History, Geography and Biological Anthropology - PhD
A US qualified educator with 10 years of teaching experience in the UK and US offering tuition, homeschooling and bespoke curriculum design to students from around the world. Currently an educator, lecturer and IB examiner based primarily in London along with Los Angeles and Gstaad.
Recent Students:

20

Total Hours:

617

Last Online:

24 Sep 2021

All-time Students:

115

Total Classes:

585

Signed Up:

20 Oct 2019
About Me
I have recently completed my Phd in Biological Anthropology, with a particular emphasis on female puberty and obstetric hazards. In my free time I enjoy travelling and learning about new cultures or just visiting with friends. During the winter I often try and spend a few weekends skiing in Gstaad, CH and in the summer I love snorkelling in California; however, since moving to Europe I have tried to take advantage of the Mediterranean as well. While in London, I enjoy art shows, trying new restaurants and volunteering. I am a co-owner of the Charleston Clubin London, member of the Wing and other various social clubs.
Tutor Experience
I am a professional educator with American teaching qualifications, an IB Examiner and have over a decade of experience. In addition to teaching at local colleges and universities, I write curriculum and design various educational projects both in Europe and America. I specialise in discreet, bespoke tutoring and homeschool students- including mainstream SEN, international students and those seeking admission into US universities alongside dozens of students who need regular homework help, test prep and entrance exams tuition. I cover a range of subjects including English, Maths, History, Science, Classics, Geography, Secondary school admissions (11+, 13+, ISEE, and SSAT), American University admissions (SAT, ACT, SAT II) along with IB and A - Level preparation. Having a wide range of teaching experience including classroom and one-to-one and group settings, I have the ability to determine the best approach with each student so that their lessons with me are tailored to their individual needs.

Other Teaching Experience:
Teacher (Geography)- Russian Ballet School London
Examiner- International Baccalaureate
Undergraduate Archaeology/Physical Anthropology- University of Reading
Test-prep instructor (11-13yrs)- Memorial Charter Academy
School Programs Manager- New York Historical Society
Program Director- San Diego EcoCenter Science Museum
Head Educator- San Diego Maritime Museum
SAT Program Manager- Macmillan Publishing, Digital Education
9th-12th Grade Humanities Teacher (focus on SEN) - High Tech High School
Assistant Lecturer- College of New Rochelle
Topic Expertise
With an American background and both an MA and MSc, I tutor a range of subjects in the humanities and sciences.
Client Reviews
Helpful to have prior to an online meet.
Liv

-
Extended Essay
Very helpful, went through my work together in order to get a better understanding of what I needed to work on.
Liv

-
Extended Essay
Very helpful with getting an overall idea of the essay.
Sofus

-
Extended Essay
Kind feedback on EE, useful tips on Papers 1, 2 and 3.
Andrei

-
History
thank you , I had a very good and comprehensive session
Penny

-
Geography
Very good feedback on essay and super quick responses
alina

-
Theory of Knowledge
Great teacher!
Aiste

-
History
shes amazing!!!
Perin

-
Theory of Knowledge
I reall enjoyed the lesson and Dr Candace was extremely kind and helpful!
Denise

-
Extended Essay
Our first class but Candace kept things moving forward so as to get a useful lesson. Identifying weak points quickly. and working through those.
claire

-
13+
Testimonials
'I just wanted to say Thank you for teaching me. It was because of all your help that I got the IB Theory of Knowledge award at my school this year. Your guidance was amazing, and I felt that every class was worth it. I hope that you get to teach many more students in the future and help them the same way you did for me. ' (IB student, 06/07/2021)